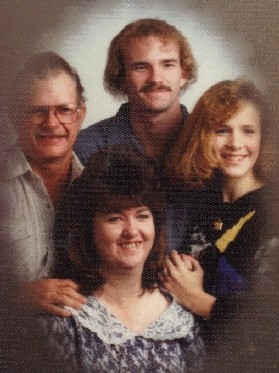 Hi! May name is Janet Jacobs Mitchell And I'm a Briscoe. My Grandmother was Bettie Adeline Briscoe Jacobs. Grandma died May 26, 1958 and is burried in Lockney, Texas cemetery. Grandpa, William [Willie] Lee Jacobs was born Oct. 13, 1873 in Hardeman Co. Tennessee and died about 1944 and is burried in Lockney, Texas cemetery. They had 10 children. They were

#1 Monta Loyd Jacobs born 3-15-1897 in Rockdale, Milam Co., Texas. He died about 1953 in Munday, Texas and is burried in the Munday cemetery along with his wife. He married Willie ? and had four children. J.B., Louise, Mary Ruth and Patricha Ann. #2 Flossie Jacobs was born 1-1-1899 in Rockdale, Milam Co., Texas. I only met her once and I was young so I don't know much about her. She married a man with the last name Warn. #3 My daddy was William Don Jacobs. He was born 2-20-1902 in Milam Co. Texas and died Aug. 20,1961 in Troscott, Knox Co., Texas and is Burried in the Vera, Knox Co., Texas cemetery . He married Mable Grace Franklin

11-27-1935 in the Vera Methodist Church. Moma was born 12-4-1913 in Bently, Atoka Co., Oklahoma and died March 27, 2000 in Wichita Falls, Wichita Co., Texas. Daddy worked for the county of Knox. They Had five children. Shirley Marie Jacobs born 12-8-1936 at home in Vera, Texas and died 2-20-1937 in Vera, Texas. Malcolm Don Jacobs born 5-14-1938 in Seymour, Baylor Co., Texas married Sandra Ann Clement in Temple, Texas and has five children. Malcolm Don Jr., Deberah Kay, Sherry Jan-an-ette, Kerralee Renee, and Jimmy Franklin Scott. Malcolm is still living and lives in Arlington, Texas. Mable Jenette Jacobs was born 6-21-1939 in Couthern, Arkansas and died 8-27-2001 in Munday, Texas. She never married. Gordon Lee Jacobs was born 3-13-1941 in Couthern, Arkansas and married Dorthy Jean Jennings 6-18-1960 in Troscott, Texas. They had three children. Angel Lynn, Justin Jacobs Buckner, and Rickie Dewayne. Gordon is still living and lives in Springtown, Texas. Janet Sue Jacobs Mitchell was born 8-17-1950 in Knox City, Knox Co., Texas and married Cloyce Bernard Mitchell 6-15-1969 in Knox City at the First Baptist Church and have two children. Royce Don Mitchell was born 2-13-1971 in Wichita Falls, Texas and married Laura Suezette Smith. They have no children.
They live in Wichita Falls, Texas. Misty Michelle Mitchell Cowley married Rockie Lee Cowley and have two boys. Mitchell Hunter Scott Morrison born
5-17-1997 and Chase Aaron Cowley born 12-26-2000. Cloyce and I have been married forty-one years and live in Electra, Wichita Co., Texas. #4 Doney Jewel was born ABT 1904 in Texas and married a Sid Green. She died ABT 1935. I'm not sure how many children they had but I do know they had two boys named Icky Green And Earl Green. #5 Guy A. Jacobs was born
6-10-1906 in Texas and Married Hazel Holt born [3-30-1904] in 1932 or 1933. They had no children. Uncle Guy died 8-4-1981 and is burried in Parklawn Memorial Gardens in Plainview, Texas with Aunt Hazel who died 10-3-1988. #6 Eunice Jacobs born ABT 1909 in Hill Co., Texas married Hillard A. Lock and had six children. Aubery, Betty Frances, Dorthy, Ruth, Jossie, and Bobo[nickname]. Eunice died in the 1990's in Haskell, Texas. #7 Cecil Jacobs was born ABT 1912 in Hill Co. Texas. I only saw him once when Grandma Jacobs died and I was very young. I thing he lived in south Texas. I know he was killed in a car accident when I was young.
I think he had two boys and a girl. #8 Oschr Jacobs died young. #9 Theo Jacobs died young. #10 Clara Mae Jacobs May 1918 in Hill Co. Texas married Ruben Neighbors and had three Children. Billy Ray, Betty Mae, and Rubin Lee. Clara Mae is still living and lives with her daughter in
Springtown, Texas. I was so thrilled to find this Briscoe webb
sit and find that I had such a big family. I didn't know much about Grandma and Grandpa's family till now. I never knew Grandpa, he died before I was born and I was eight when Grandma died. I realy loved her though! She was always so much fun. I met three of her sisters once, Pearl, Sally and Roxie, the were a lot of fun also. Hope this helps a little with the family tree.
Janet Jacobs Mitchell
6th, Oct. 2010